Kudo's to our new member, Rumaway!



...who is creating a series of pics that visualize the ongoing issue of hidden added sugar in rum in a most effective and dramatic fashion, to wit: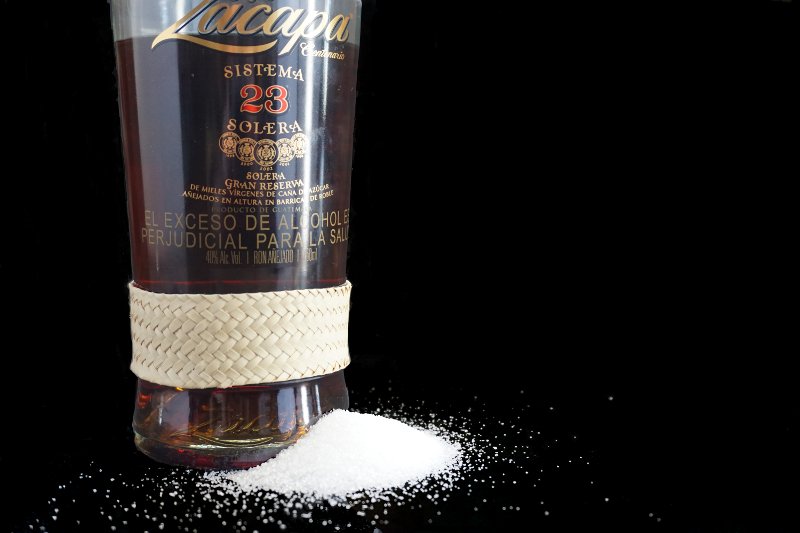 A picture does indeed tell the story, and in a way that ordinary copy can never achieve. Kudo's to Rumaway, who sent me this pic, and who also intends to start testing rums for the Master Sugar list.




But the pile of table sugar should be twice as high! Why?



Here's why. In this case the picture misleadingly depicts a pile of about 20 grams of table sugar to represent Zacapa's change of their secret sugaring, from about 41g of ordinary table sugar (sucrose) to about 20g of substituted sweeteners:

Total alternate sweeteners: 20,3g
fructose: 10,4g
glucose: 10,9g
saccharose : < 0,05g

An improvement? No. The reason is simple:

Because the "new" recipe substitutes the ordinary sugar they used before with a combination of fructose and glucose. This substitution for ordinary sugar is actually nearly twice as sweet (1.8x) as the ordinary sugar it replaces! In terms of cane sugar we have: (10.4 + 10.9) x 1.8 + .05 = 38.4 + .05 = 38.5 g/L sugar equivalent, hardly a change at all from their former alternation with 41g of ordinary sugar.

Shame on them. Regardless of the distillers' motivation, uninformed buyers may be misled to believe that the reduction from 40g of ordinary sugar to 21g of a substitute formula is actually meaningful, particularly in comparison to most other rums which still use good old table sugar.

Thus, to be fair, the pile of table sugar shown in Rumaway's picture should be twice as high.


*******
http://rumproject.com/rumforum/viewtopic.php?t=1826
_________________

Go to Save Caribbean Rum Petition!